Looking Ahead
For More Than a Century, Michelson's Shoes Has Planned For The Future.
On Massachusetts Avenue, Lexington, MA's downtown thoroughfare, there are plenty of reminders of the past. The right side of the street is lined with a small deli, a three-screen theater, and the 85-year old Theatre Pharmacy. It's also the home of Michelson's Shoes, a fourth-generation, family-owned shoe store. But according to owners Eric and Jerry Michelson, the 101-year success of the family business is the result of a multi-generation commitment to embracing the future.
Today, the Michelsons operate the 2,000-sq. ft. store in Lexington and another similarly sized location in nearby Needham. Eric Michelson, 59, heads up buying; his brother Jerry, 53, handles day-to-day operations. Together, the stores service locals from first walkers to septuagenarians, as well as an influx of seasonal Lexington tourists. But the store also pulls clientele from as far away as the New Hampshire and Rhode Island borders, and it has shipped orders to all 48 continental U.S. states.
The brothers credit the banners' appeal to service level, knowledge of staff,  selection of sizes and widths and the ability to address unique footwear needs.
"That is something people have a hard time finding near them so they are willing to travel to us," Eric said. "Prior to the Internet, we served customers who had left this area and moved across country by shipping them what they needed."
To serve such a diverse client base, the Michelsons stock a deep catalog of comfort and dress/dress-casual styles for men and women, as well athletic and outdoor looks. And it does a robust kids business as well — in fact, children's represents the largest category by SKU count. [Editor's Note: For the Michelson's perspective on the kids' market, click here.] Top-selling brands include Rockport, Minnetonka, Birkenstock, UGG, Dansko, Sorel, SAS, Ecco, Merrell and Acorn Slippers, plus Brooks, Saucony and New Balance comfort styles in the athletic segment.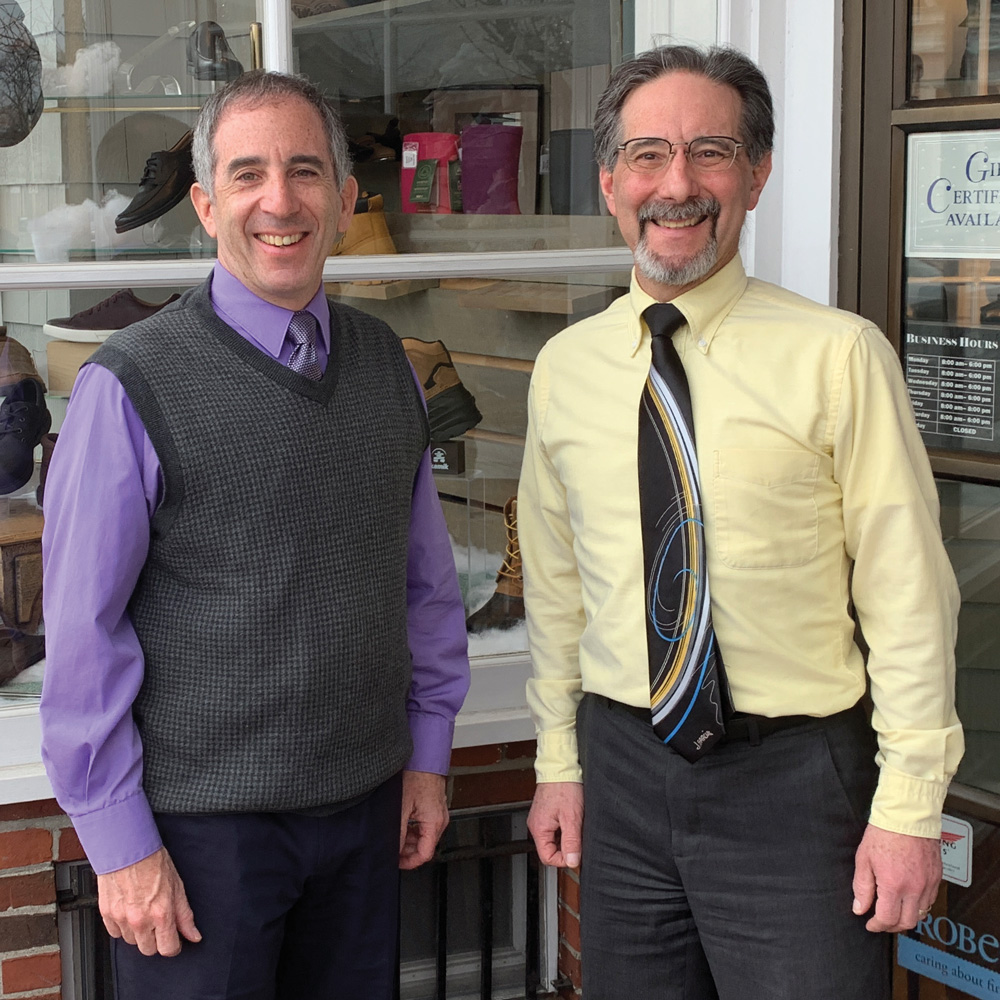 The brothers, who manage a staff of 16 between both stores, say the key to the business' longevity has been its adaptability over the generations as market trends, consumers and outside challenges regularly shift. Began as a harness and shoe repair business during Prohibition, it was Eric and Jerry's grandfather Harold Michelson who decided to focus more on shoe sales — and their father, Richard Michelson, who decided to shed the operations' shoe repair component entirely. Richard Michelson also was the driving force in 1965 of shifting the focus away from boxes stacked high on the selling floor to in-store shoe display windows in a park-scene format. He was also responsible for a decision in the 1980s that still benefits the family business to this day: Buying the Lexington property.
"Owning our property was a goal of our father and he finally had the opportunity to purchase the building in the early '80s," remembers Eric Michelson. "It is a tremendous advantage to have the security of controlling your own location and not have to worry about escalating rents."
Eric and Jerry Michelson have continued the push forward.
Eric joined the business part time in 1975 as a 15-year old high school student. After college, he  joined the business full-time and was instrumental in getting Michelson's first computerized point-of-sale system. A few years later, it was Jerry who acquired the Michelsonshoes.com URL during the dawn of the Internet.
"Retailing is problem solving. So whether on the sales floor, in your merchandising, or getting customers to find you relevant, to remain successful you've got to solve problems."— Eric Michelson
The shared commitment to modernization, they said, has helped keep the family harmony.
"We never got resistance from our grandfather or father when they were in the business," Eric said. "They always wanted to make the business better, and that has prevented conflicts. Obviously, we discuss what to buy for merchandise and how to handle certain situations, but ultimately, we all come down on the side of growing the business."
Having spent nearly 45 years of his life working in the family business, Eric Michelson says new challenges are constant. From a consumer perspective, he said, the biggest obstacle today is often a consumer's attachment to social media influencers and posts — and not the best-fitting product for his or her foot.
"We have people coming in looking at their phone, asking, 'Do you have this shoe? I only want this shoe.' They might read reviews, but they have it in their mind that is the only shoe they want," he said. "They don't understand that we curate a collection based on what we think is going to work for people. And they won't even look at it because they're engaged with social influencers."
The leading looks of the day have certainly changed over ten decades, from leather sole and upper styles from vendors such as E.T. Wright and Bostonian, Eric Michelson said. Today's shopper, he said, looks to styles with dress-shoe uppers but rubber outsoles from the likes of Rockport — or even more dressed-down footwear.
"With the change in office wear, it's getting even more casual than that," he said. "We're seeing a lot of contrasting outsoles and athletic-inspired looks as people seek out versatility."
The Michelsons advise sales floor staffers not to get angry if a customer takes out their phone during the fitting process to look up product information, including pricing. The common practice is part of changing times, they said, and will likely never go away. Growing vendor DTC efforts and the rising cost and lag time of getting orders shipped to store from U.S. West Coast distribution centers have also been a concern.
How to counter? The brothers are also adding new elements in-store.
While the Brannock device remains the sales staff's most vital measuring tool, Michelson's recently installed Stride Rite's Fit Zone foot scanner made by Volumental.
"We find that the children's business is still very viable," Jerry Michelson said. "They need to be fit, and parent care that their children's feet are appropriately sized. "We're ready to try this new method to see if it's going to be worthy of its place in the future," he said.
Scanners, he added, are a good tool — but they need to fit into the overall sales process.
"Whatever measuring device you have is a guide, not a rule," he adds. "It comes down to a guide for staff to make the best footwear shopping experience for the customer. People don't want to spend their days here. We must bring out the most appropriate product for them in the most efficient manner and get them on their way."
But no matter how much changes, they say, Michelson's has remained a family operation.
After raising her three children, Eric and Jerry's mother Barbara has worked in Michelson's for nearly 40 years as the handbags and hosiery buyer. All seven Michelson grandchildren, all of whom are college-age and younger, have worked in the store during high school.
And together, the Michelsons are once again confronting a changing landscape.
Beyond the uncertainty surrounding the November presidential election, Eric Michelson thinks the recently emerged coronavirus adds in two new potential pitfalls.
"We have uncertainty on the supply side, not knowing if or when production issues will affect availability of spring or fall shipments. Problems could occur at either the component level or with assembly. But either have the same effect: No available product," he said. "And if people stop traveling for vacation or don't send their children to summer camp, that eliminates demand. There are so many ways this could play out that would adversely affect our businesses and we could easily be left in an overstocked or understocked situation."
Luckily, a long history has given Michelson's the tools they need.
"Retailing is problem solving," Eric Michelson said. "So whether on the sales floor, in your merchandising, or getting customers to find you relevant, to remain successful you've got to solve problems. We're up to the future challenges of adapting to both new and different competition and how that changes consumer habits, and to vendors' practices that demonstrate they understand less and less about the value of the independent retailer distribution channel. It will require being flexible and open to new methods and practices in order to attract customers into our stores and accomplish our primary goal, to have the opportunity to solve their problems."
See the Rest of the MArch / April 2020 Issue