On The Job And Off The Clock
These boots are tough on the job site and stylish on the town.
There's a new breed of work boots in town. High-tech, high style, high comfort and high energy, they are designed to work 24/7, and when the job is done, they know how to walk away and play hard, too.
Fashionable and functional, the boots debuting in Fall 2020 have the look and lightweight feel of sneakers but with pumped-up protection. Lauren Poole, senior brand marketing manager for Wolverine, says that athletic shoes have become the standard point of reference in work boot design.
"People are demanding more performance and comfort in footwear regardless of category, and we recognize the importance of cushioning as a crucial component of performance and comfort as well as the durability demands in the work category," she says.
Today's workers expect more than the standard safety features, according to Robin Skillings, senior director of global marketing for Keen Utility. "The market demands innovation, which encompasses materials, construction and design to produce better performance, lighter weight and optimal fit for every job," he says.
One of those innovations is the new Keen.Bellows Flex technology that flexes, folds and bends to make knee-down tasks easier. "It addresses a need workers didn't even know there could be a solution for," Skillings says. "No more cracking or splitting leather at the high flexion point of work boots."
Some of the innovations that brands are introducing are based on wearers' feedback. David Mesicek, chief marketing officer at Honeywell Retail, the parent company of The Original Muck Boot Co. and Xtratuf, says Muck's Apex style, which has a lighter silhouette for faster, more athletic pursuits, and Xtratuf's Legacy, which pairs performance features with a more casual aesthetic, are direct results of extensive on-the-job-site research.
"The market demands innovation, which encompasses materials, construction and design to produce better performance, lighter weight and optimal fit for every job."
Ken Blanco, national VP of sales for Footwear Specialties, whose brands include Avenger, says that features are inspired by feedback from brand partners across work categories, including food processing, the oil industry and cement plants.
He points to the Avenger Breaker series, which features contemporary urban styling to appeal to a younger demographic. "Many of our top selling styles are in specialty work categories — puncture resistance, insulated, metatarsal guards and women's —all directed by ongoing dialogue with our partners," he says.
When it comes to the tactical category, consumers are looking for boots to do the long-haul heavy lifting, so it's not surprising that safety and style are fusing.
"Today's market is calling for more comfort and more functionality in a great price point under $119," says Brandy McCarty, chief merchandising officer for The Eastman Group, whose brands include Magnum. "This is key. Magnum is also answering the market demand in terms of coloration with the Coyote colorway really coming to life."
Keith Carrato, VP and GM of Bates Footwear, adds that wearers are placing a priority on boots that can transition from work to home and back again. "They expect their boots to deliver uncompromising traction on any terrain and relentless durability — all while being incredibly comfortable for all-day wear."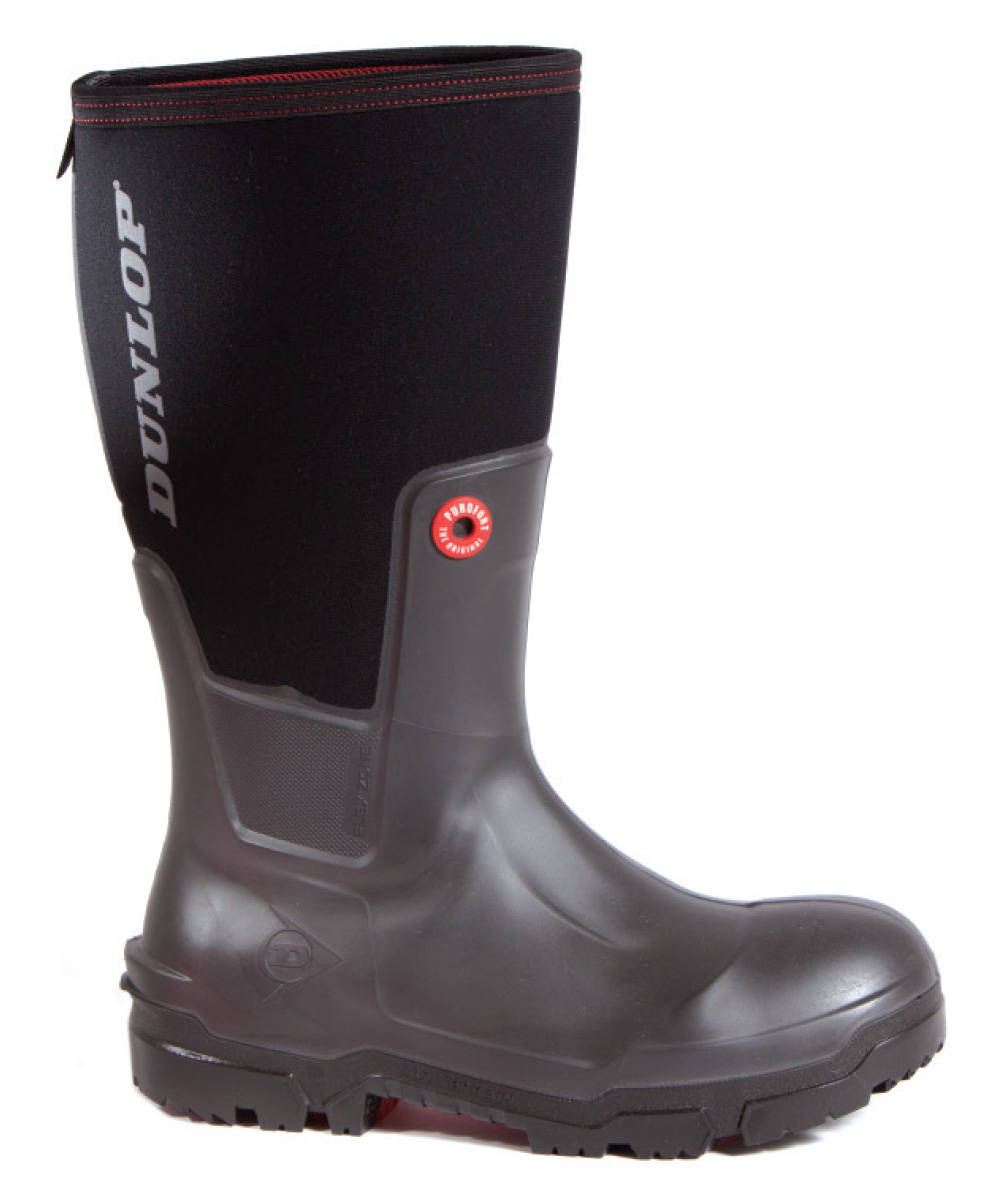 Dunlop Snugboot Pioneer
Engineered for comfort, this composite-toe boot provides the protection of a heavy-hitter (it has a slip-rated outsole, meets ASTM and EN requirements and has a lightweight, breathable, waterproof upper), but fits like a shoe. MSRP $149.99.
Xtratuf Legacy Lace Boot
‍This 8-inch insulated, 100 percent waterproof boot deconstructs the brand's commercial-grade Legacy, which was designed to fit the needs of the Alaskan fishing community, and adds a full-grain waterproof leather upper to the original slip-resistant chevron outsole. Its built-in cushion insoles with arch support provide comfort on long shifts. MSRP $190.
Muck Boot Co. Apex
‍This hard-working all-terrain boot for men and women offers all the brand's prime protection — it's 100 percent waterproof, has a high-traction outsole and a lock-down zipper closure system — on a lighter silhouette designed for faster, more athletic jobs. MSRP $140.
Skechers Work Moltke
‍This men's waterproof, slip-resistant rain boot, which features rubber-coated neoprene and the brand's Air-Cooled Memory Foam, is designed for work and casual wear, too. MSRP $84.
Coleman Tradesman
‍This entry-level boot combines great materials (leather) and quality construction (Goodyear welt) at a super-accessible price. MSRP $50.
Reebok Fusion Flexweave Work Shoe
Designed with an athletic silhouette, the Fusion Flexweave Work features a slip-resistant rubber outsole and a protective composite toe. The cage design of the shoe's upper has a unique look and provides added support. Beneath the cage, the upper is made from an Ultraknit and Flexweave combination for breathability. MSRP $134-$142.
Wolverine Hellcat
‍With its supercharged performance cushioning and lightweight UltraSpring midsole, the durable Hellcat combines the comfort and moves of a sneaker with the chops of a traditional heavy-duty work boot. MSRP $165.‍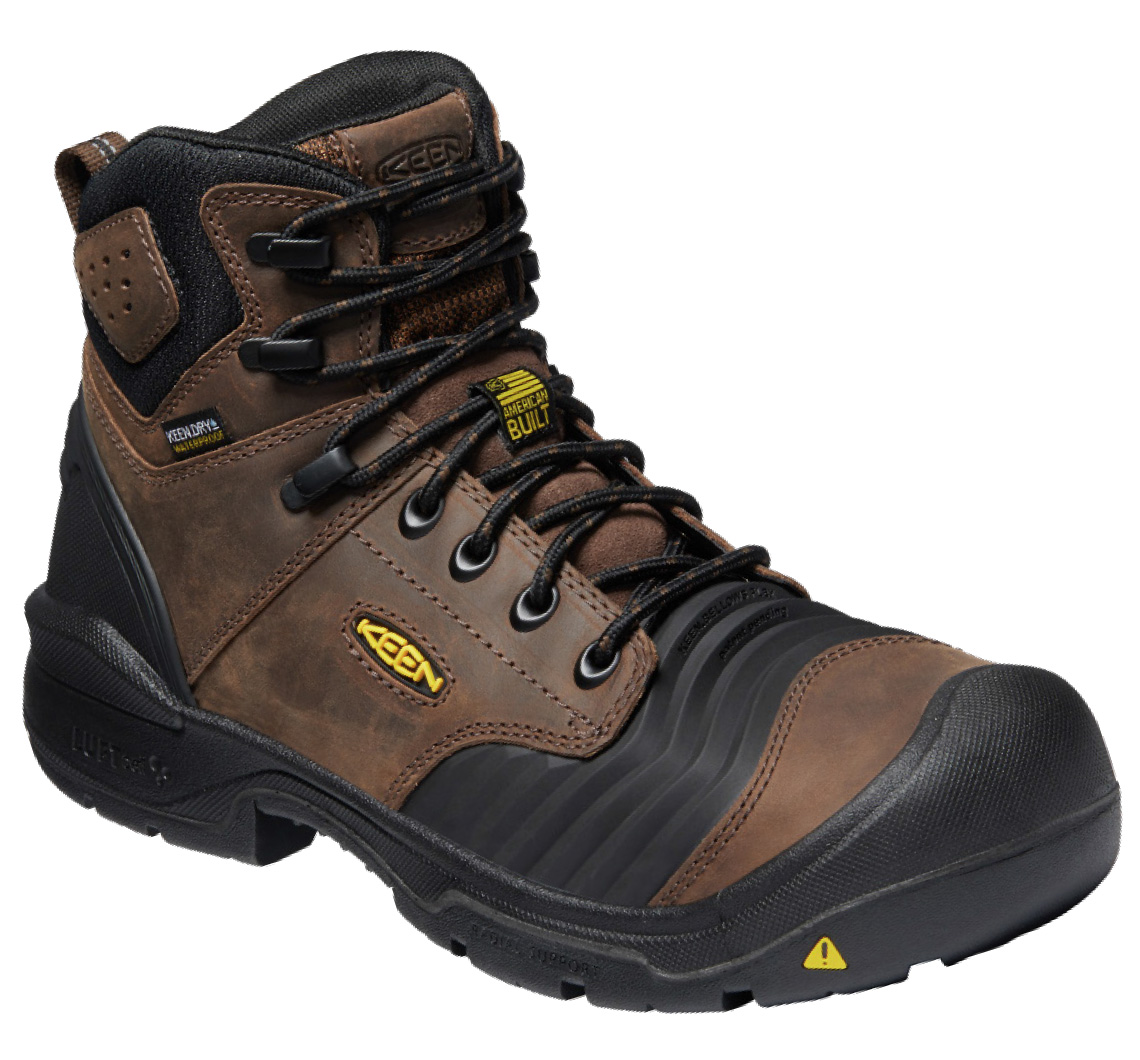 Keen Utility Portland
‍This turbo-charged 6-inch industrial hiker, built in the brand's Portland factory, is made for the rough-and-tough jobs. Built like a sneaker and compliant with ASTM EH standards along with ASTM and Mark II non-slip standards, it comes with a ton of high-tech features that include the Keen.Bellows Flex ergonomically engineered system designed to flex and fold with up to three times less torque than other work boots on the market. MSRP $210.
Timberland PRO Reaxion Mid Composite Safety Toe
‍This hiker-style, full-grain leather boot is made to work long shifts: Its composite toe is lightweight, its TPU-wrapped Aerocore midsole and Anti-Fatigue Technology keep feet comfortable and its moisture-wicking lining is breathable to keep feet odor-free. MSRP $160.
Iron Age Footwear The Reinforcer
‍Designed for stone masons, concrete finishers, steelworkers and plumbers but worn by workers across the spectrum, the steel-toe wedge Reinforcer, which has a full-grain leather upper and the brand's ultra-comfortable BootBed memory foam footbed, works just as well off the job as on.  MSRP: $121-$132.
Magnum Response III SZ WP
‍This waterproof non-metallic boot, which comes in a cool Coyote colorway, is packed with power. It hits all the trends: Tech-heavy yet lightweight; durable, breathable, comfortable, slip-resistant and scanner safe and most of all, perfectly priced. MSRP: $110.
Avenger Work Boots Style A7282
Part of the brand's Breaker series, this men's and women's waterproof, electrical-hazard-rated boot pairs heavy-duty safety features such as lightweight, puncture-resistant safety toes with an updated urban look that appeals to younger, more stylish workers. MSRP $109.99.