Chaco's PrintShop Can Print Anything On Your Z1s — Well, Almost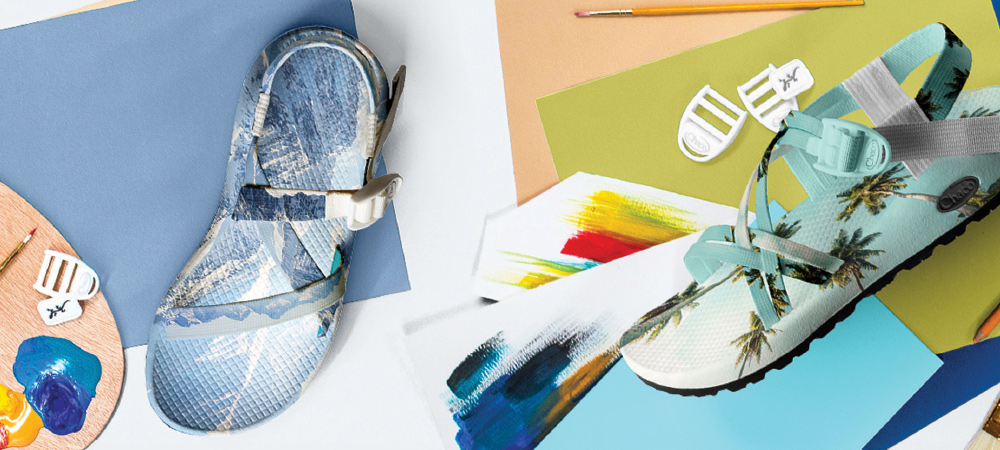 Chaco is taking customization to the next level with its new MyChacos PrintShop program. Launched in February, PrintShop uses digital printing to let users put anything (almost) on the footbed and webbings of Chaco's flip-flops, Z/1, Z/2, ZX/1 and ZX/2 models, as well as webbing belts, wrist wraps, and dog leashes and collars for $5 to $10 more. Users can use the library of designs already in the system — including designs from landscape artist Rachel Pohl — or upload their own artwork or photos.
So what's fair game?
"Anything from photos on your phone to your homemade graphics to things you can create using the program," VP of Marketing Colin Butts says. What's not? Objectionable words and images (no X-rated selfies or curse words, for example) and images that violate copyright. Butts says the digital printing process lets the brand use its normal materials, so the designs stay put without changing a thing about the fit, feel and durability of the styles. And the process only adds about an hour to the overall production time of the styles, so the 10-day window for shipping to creators is unchanged.
The brand had been working to bring the technology to market for the past 18 months — a function of how long it took to build the needed code as it was to refine the production process. (To make sure the process worked seamlessly on all styles and sizes, code had to be written to make sure the images images mapped correctly no matter what was being printed.)
Chaco's parent company Wolverine has been really supportive of the technology, Butts says, investing in two machines (a third is being delivered shortly) to do the printing in the company's Rockford, MI factory. And beyond feeding the consumer need for individualized product, he said, the technology could allow the brand to react almost instantly to trends, pop culture moments or other events. "We can now do incredibly quick turns if there's something of the moment," he says.
Butts says he's excited about the sales potential, too.
The MyChacos program as a whole, he notes, has been growing at a faster rate than the brand's e-commerce overall, even before the launch of PrintShop.
"We've had about 60 orders in the first three days, but since it's not exactly sandal season, we think we'll see much more demand," Butts says. "We think the program could add about 15 percent to our e-commerce business in the first year. We have big plans."