Essential Performers
From Hike to Run and Beyond: Top Trends in the Sock Market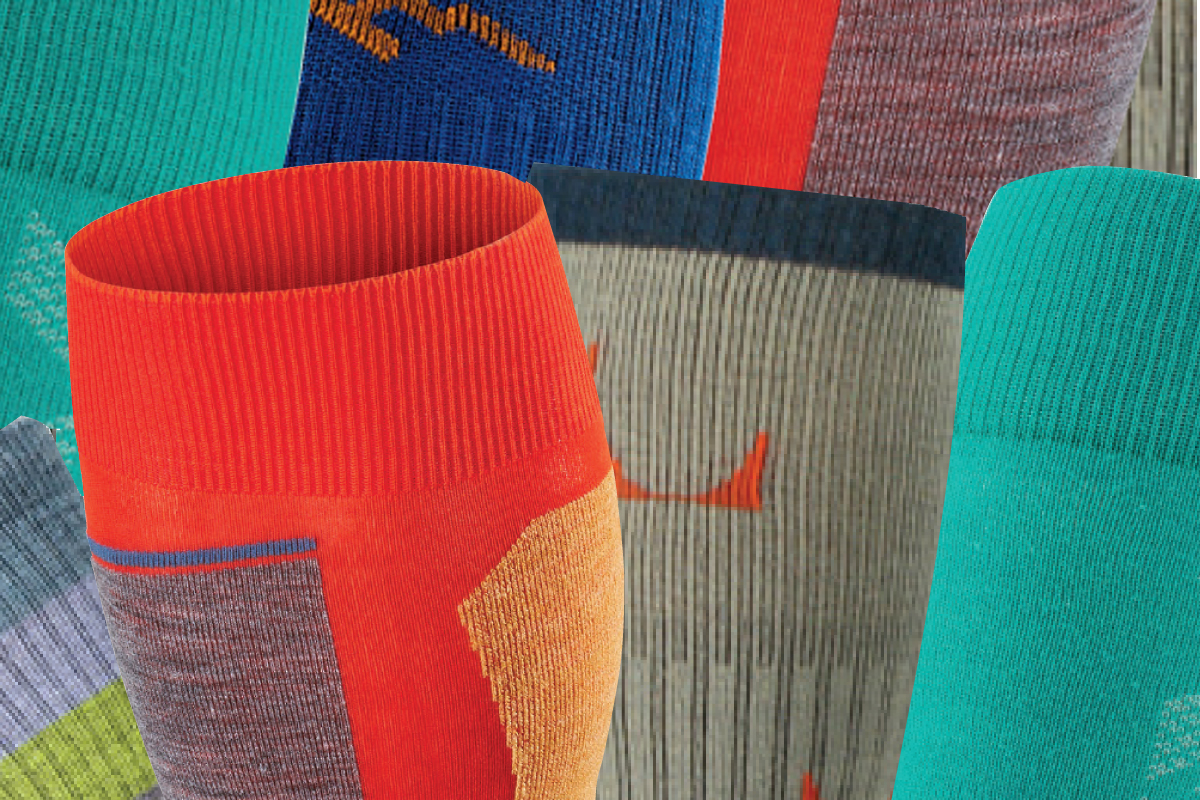 Socks, whether they're built for downhill ski runs, tough trail hikes or just a scenic walk, are continuing to refine themselves through technology and style. Regardless of activity, customers are demanding socks that are comfortable, form-fitting, durable and versatile. Here's a look at what's new for 2019.

Hike and Run Performers
‍Technical fabrications and innovative design have performance hike and run socks taking it to the next level. Here, brands discuss new products and trends on the rise.
‍
Balega's UltraLight No Show, MSRP $13, is a performance athletic sock that features Drynamix performance yarn, a triple "Y heel" construction that expands like a fan to cup the heel for a precise fit, extended cushioning in the heel and toe areas for durability and comfort without added bulk and three levels of elastication. "For a number of seasons we have moved toward a combination of natural and synthetic fibers and lighter weight construction," says Tanya Pictor, Balega's VP–marketing. "It is all about comfort and performance at the same time. We are pushing the boundaries by making the socks so comfortable that you hardly know you are wearing them and creating innovative solutions for some of the issues athletes struggle with."
‍Drymax's Extra Protection Hyper Thin Running Sock, MSRP $23, features a thin flat-knit dual-layer foot-hugging design with strategic ventilation on the top of the foot and around the arch and PTEE in the forefoot and heel to eliminate friction. "Drymax is choosing to focus on technical advances in synthetic fibers, fiber durability, blister protection, antimicrobials and advanced proprietary knitting techniques," says Bob MacGillivray, Drymax EVP. "Drymax makes socks for the feet; the eyes are of secondary concern."
‍
The Feetures! Elite Light Cushion No Show Tab, MSRP $15.99, features targeted compression with an anatomical fit. It has arch support for comfort and support.  "Customization is prevalent in the market in the form of sublimation printing and 360 printing and it will continue to gain momentum," says Joe Gaither, VP-marketing. "The next big thing will be incorporating smart textiles into socks, whether it's in the form of a topical treatment or inherent in the yarns."
‍
Fox River's Basecamp, NFZ, MSRP $18, is a lightweight hiker. The Merino blend sock is treated to protect against ticks, mosquitoes and other insects. It features Wick Dry Technology, a combination of strategic padding and mesh panels for comfort and a proprietary fit system. "Fox River has made significant investments in technology to dramatically reduce the lead times and improve the ability to directly link the shop floor to the design group to reduce the layers to product development and design," says Bruce Barrows, VP for business development. "This technology gives us the ability to look at 3D printing, sublimation or traditional knit in designs as we develop new products. We're also seeing the use of recycled or repurposed yarns."
‍
Lorpen's T2 Synthetic Light Hiker is a trekking sock with a modern technical design. It has padding in the sole and open mesh in the instep for comfort and ventilation. This sock is made with ThermaFeel technology, a polyester that retains body heat while expelling moisture, according to the brand. "Two trends are converging," says Dakota Hyde, U.S. sales manager. "First is user demand to have socks in a variety of heights loaded with technical features for top performance. Second is having more aesthetically pleasing designs in performance-oriented socks. The next big thing is to unify the worlds of printed designs with top performance features and materials without compromising on either front."

OS1st's FS4 Plantar Fasciitis Sock, MSRP $24.99 pair, are designed to provide 20+ mmHgof compression to reduce swelling and improve circulation. The socks are a good option when footwear does not have a removable insole for an orthotic to fit in — the socks themselves deliver an "orthotic effect." A deep heel cup in conjunction with compression built into the sock helps centralize the body's natural soft tissue pad back under the heel bone.  The brand recently launched a new program called "Socks With Purpose." According to Tommy Nason, OS1st national sales manager, "It is both product and merchandising driven. We are the only company presenting this as a unique package to retailers. And the response has been huge as we clearly define who the product is for; FS4 Plantar Fasciitis and BR4 Bunion relief socks for instance. This will be the all the buzz in 2019." The Socks With Purpose program aims to give retailers a defined space that allows them to interact with customers and openly talk about pain solutions. It is purposely designed to call products what they are; Plantar Fasciitis, Bunion Relief, etc. Customers who may not want to advertise or discuss their specific foot problems can find the products they need via effectively merchandised product as the program consolidates OS1st's "pain solution" products into one easily found area and features uniform packaging for all products and a clean retail presentation.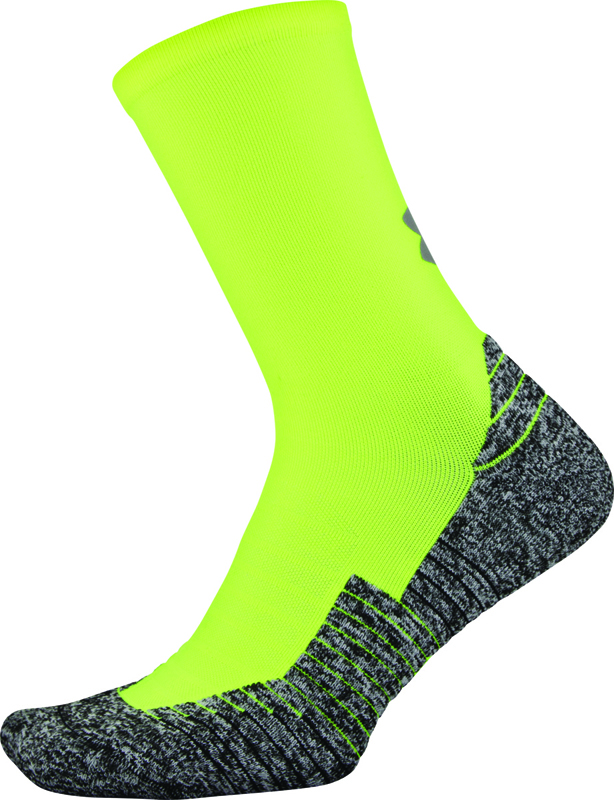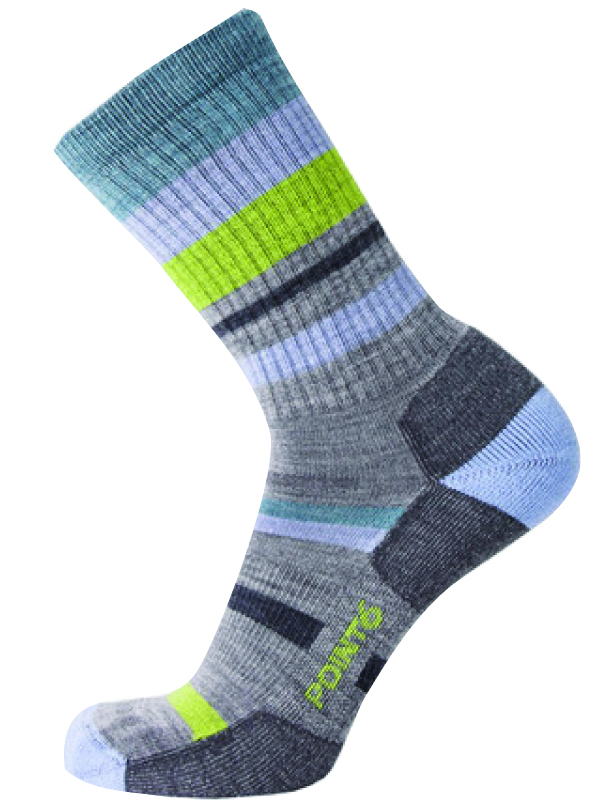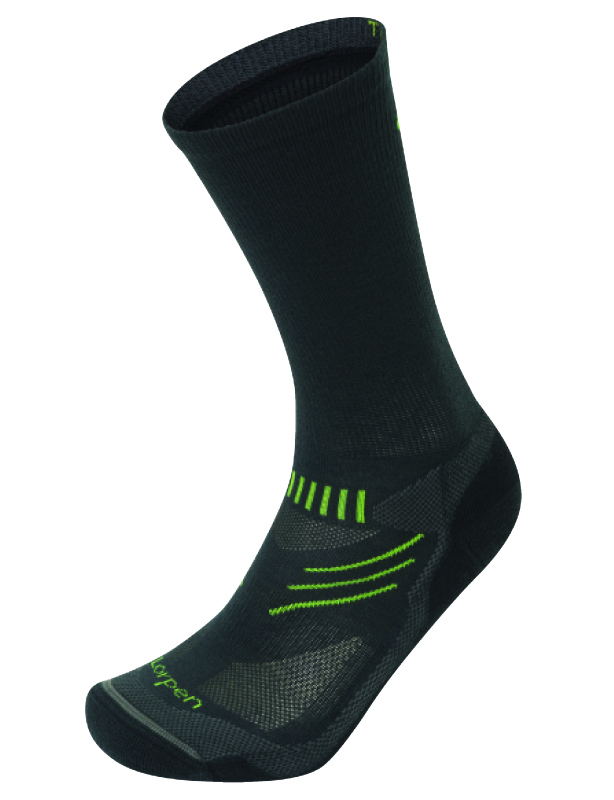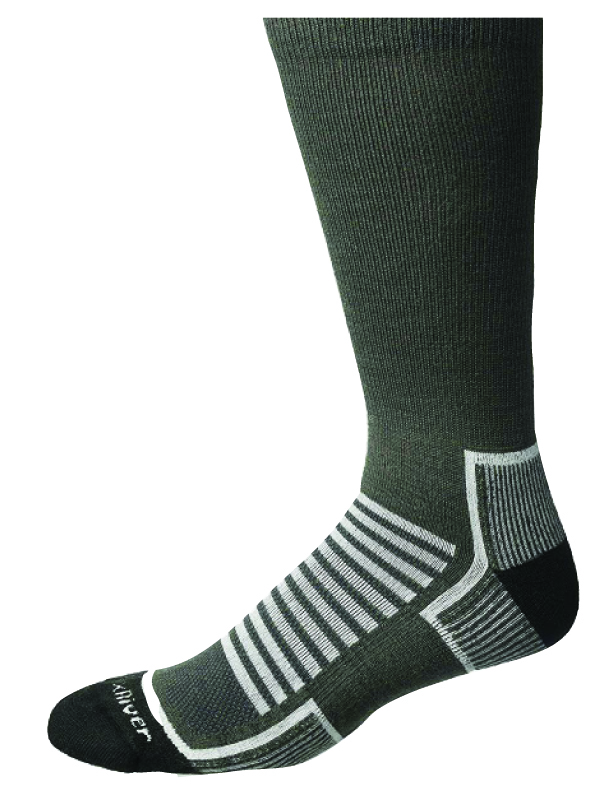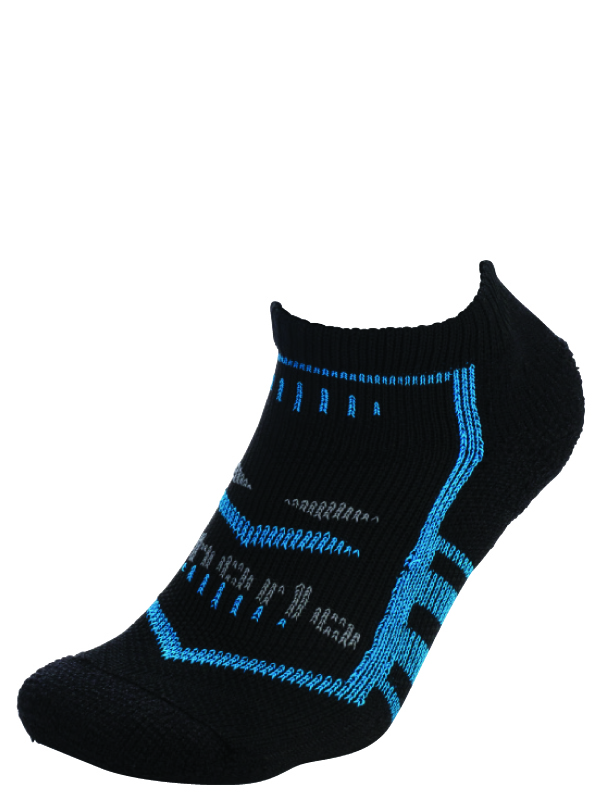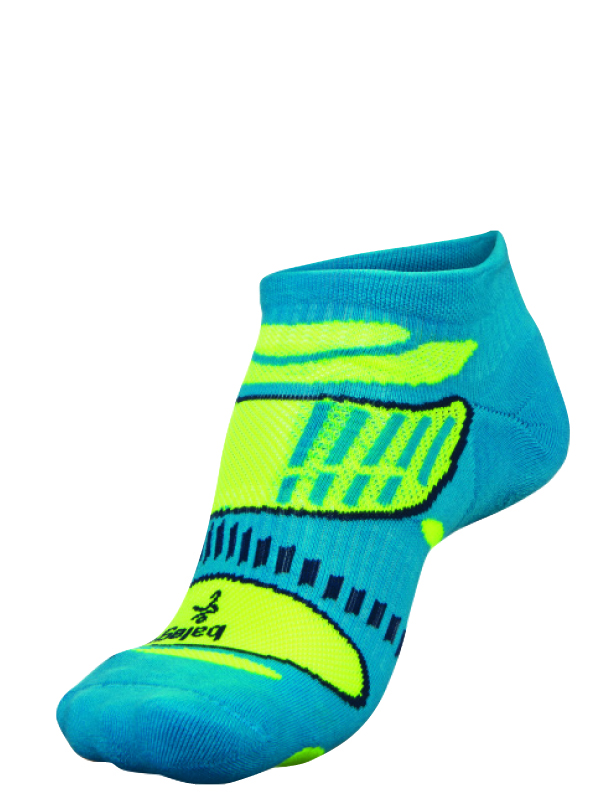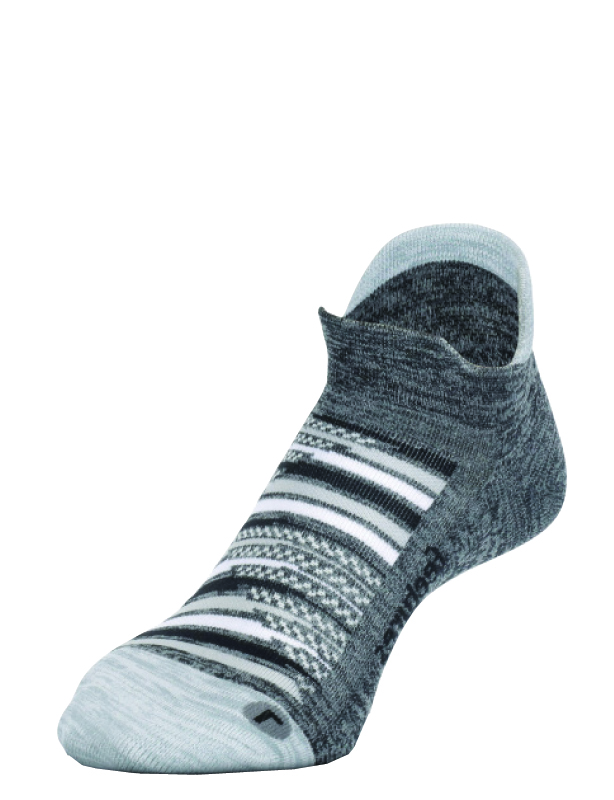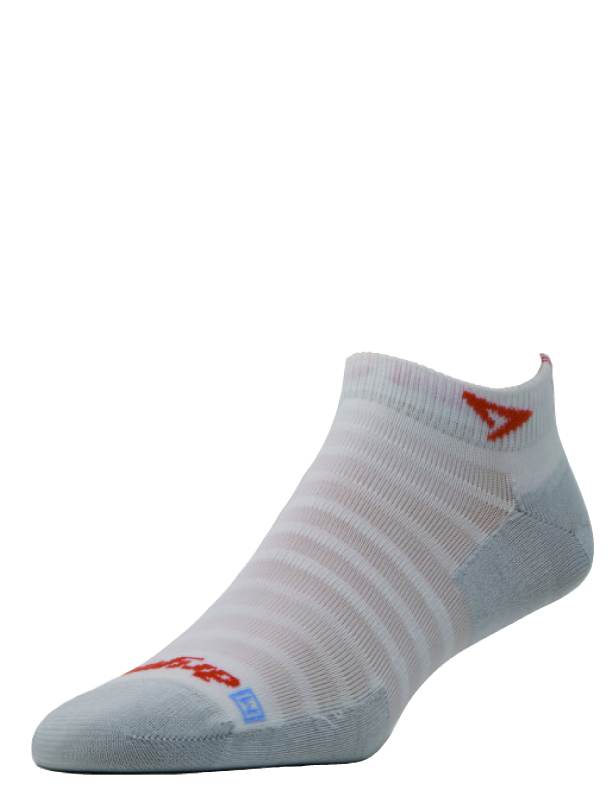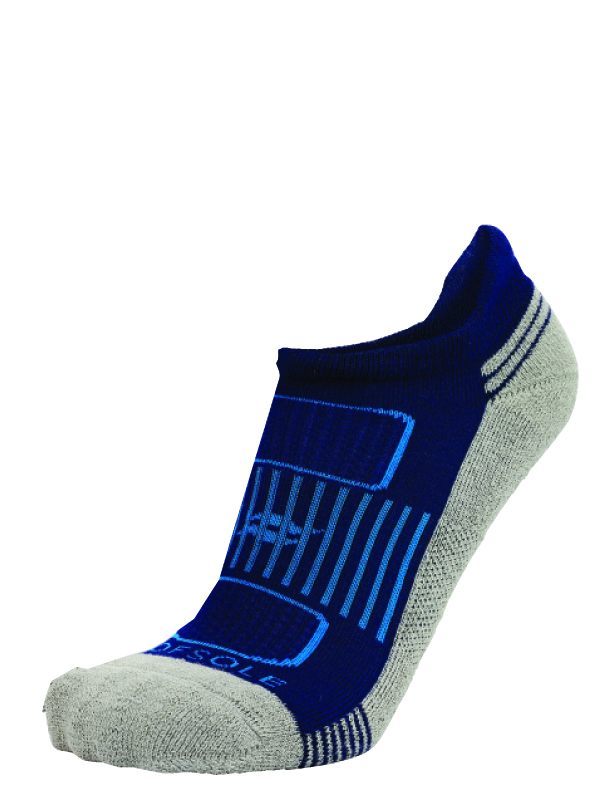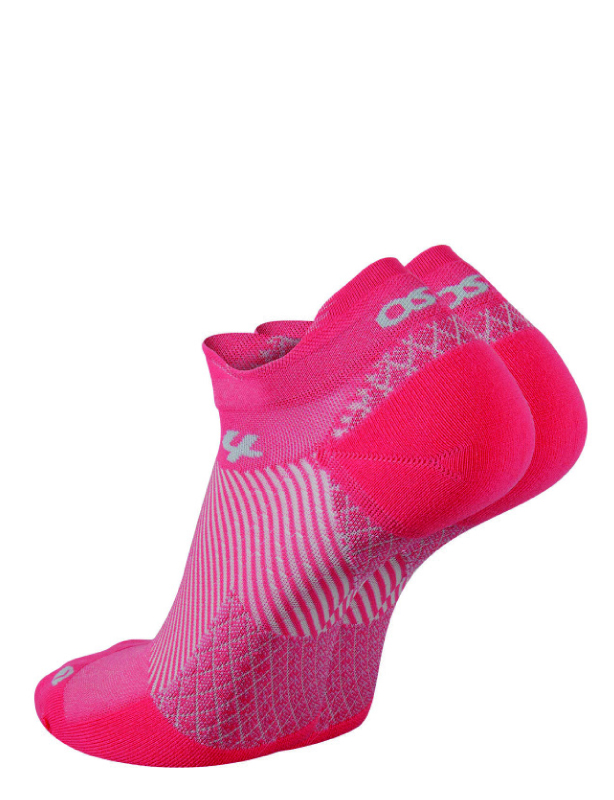 ‍Point6's 37.5 Hiking Mixed Stripe Light Crew, MSRP $23.95, is made with 69 percent New Zealand Merino wool. The sock's shape, stretch and durability are enhanced with a dynamic nylon called 37.5, which contains natural particles that increase the surface area of the fiber, the brand says, allowing the sock to use body heat to evaporate moisture in vapor form before it becomes sweat.

Sof Sole's Perform 3pk No Show Tab, MSRP $9.99, are performance athletic socks sold in a three-pack. The socks are constructed with Invista's Coolmax and feature half cushioning, an arch band, mesh venting and a comfort toe seam. "We have all been in search of the perfect fit for a long time," says Brent Lamm, senior director of product development and sourcing. "A sock that when you put it on makes you want to throw everything else out of your sock drawer and make you say, 'I'm done.' Whether through design, construction, materials, etc., we, the industry, are pretty close and whoever lands it will have a moniker we all covet."
‍
Thorlo's Edge Running Sock,  is designed with a Cushioned Suspension System (CSS) featuring an intelligent chassis with tuned dampeners in the forefoot and heel and dynamic linkage in the midfoot for precision fit and performance. Tracy Harris, Thorlo marketing, notes that it "hugs the curves of your foot for maximum acceleration in the straightaway for miles and miles. It is engineered with NanoGLIDE technology for friction reduction, moisture wicking and durability."
‍
Under Armour's Run Cushion Crew, MSRP $17, is a technical run sock that offers the comfort of a cushion sans the bulk. It features a proprietary fiber blend in the footbed that's made partly from recycled PET bottles. The socks also have an anatomically contoured fit, a reflective Under Armour logo and anti-odor and sweat-wicking technology. "We're seeing more use of sustainable materials and advanced yarn technologies and advancements in sublimation printing and direct-to-garment printing," says Corey Crawford, design director at UA Socks. "3D printing will continue to influence new possibilities in hosiery and we're seeing a resurgence in the purchase of multi-packs by consumers, which is typically a value buy, but the consumer is expecting high technology and product stories even within these price points."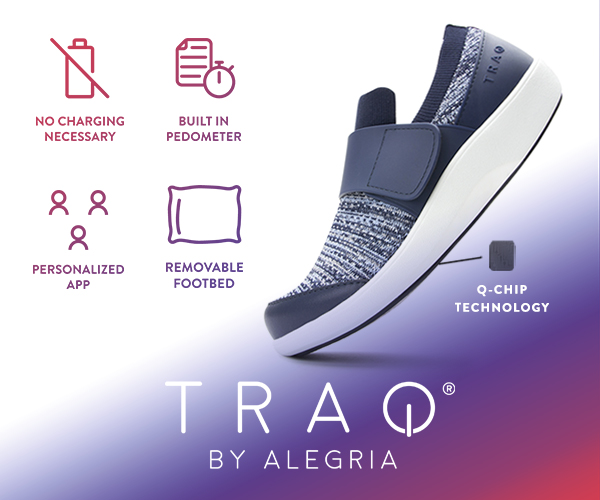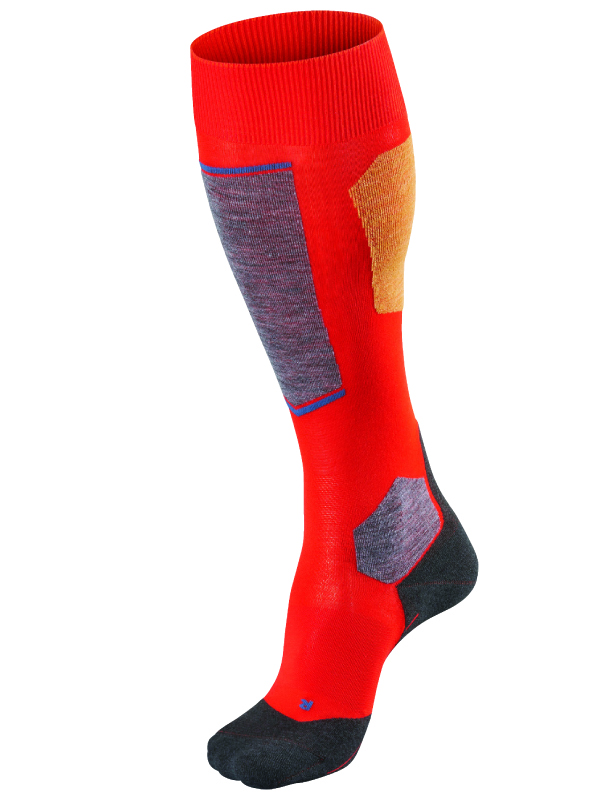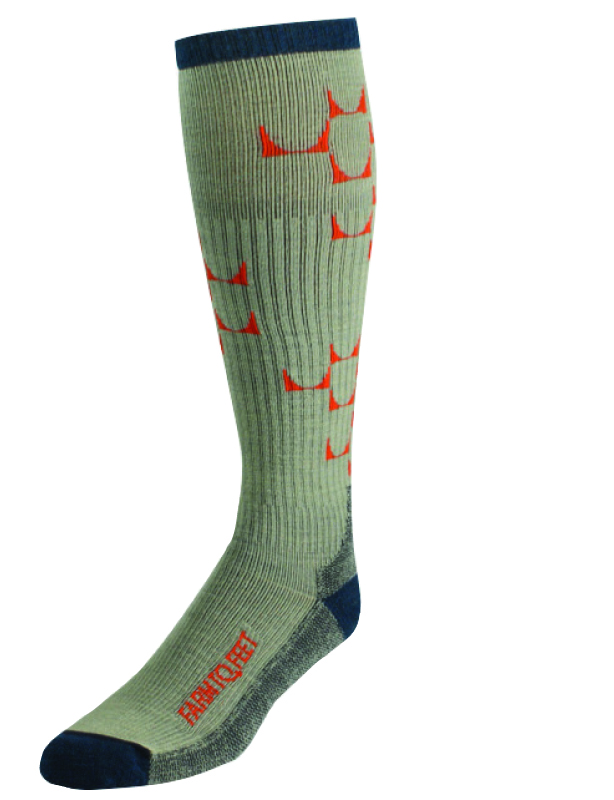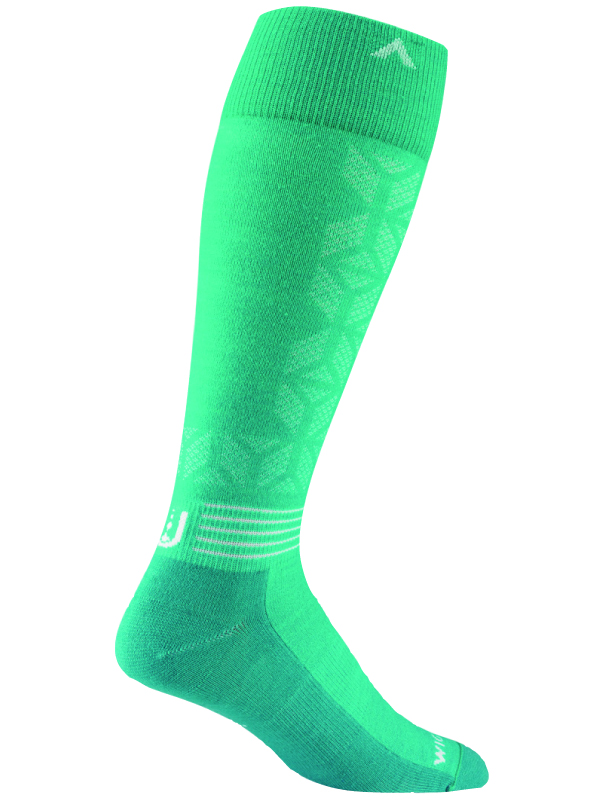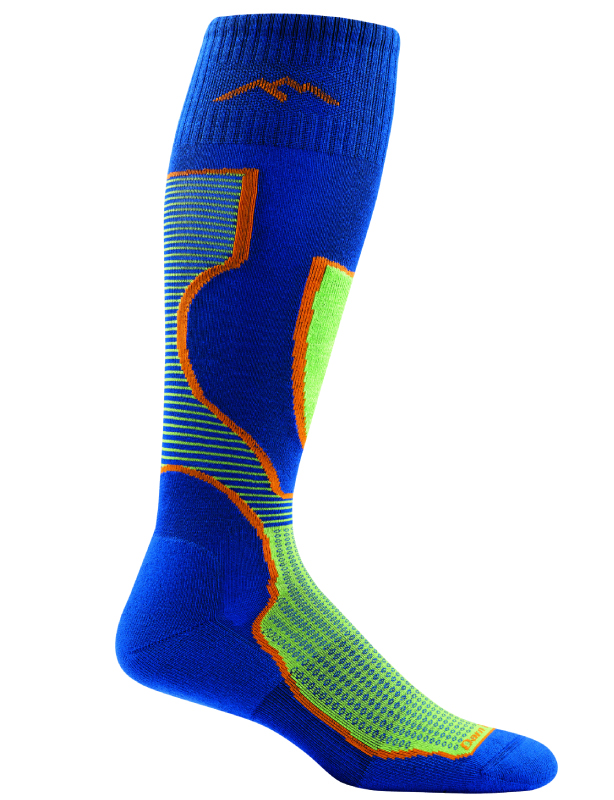 Ski Socks On Tour
‍The ski and snowboard sock category is evolving to keep up with the performance demands of backcountry skiers who need breathable socks. In addition to versatility and breathability, cushioning, fabrications and unique graphics are all key in these socks.
‍
Falke's Ergonomic Sport System SK6 Ski Sock, MSRP $60, is the newest addition to Falke's ski sock collection. The SK6 is designed to offer "immediate power transmission and comfort" for advanced skiers. It features ultra-light cushioning for immediate shoe contact. The sock's Merino wool mix provides fast moisture wicking and high insulation.
‍
Farm to Feet's Top Sheet Collection Ski Socks, MSRP $25, new for Fall 2019, come in three designs — the Telluride, Mammoth, and Jamaica. The socks are inspired by ski and snowboard culture and the locations after which they are named. "When designing these socks we wanted create something visually exciting that captured elements of their locations," says Dane Nester, Farm to Feet creative director. Each style in the Top Sheet collection is made with ultra-soft, 19.5-micron U.S. Merino wool and feature full density cushioning in the shin and bottom of the foot and reinforcement around the ankle. "Style continues to be a driver in the outdoor sock market," says VP-marketing David Petri. " Customers are looking for technical socks with aesthetics that match their sense of style."‍
‍Darn Tough Vermont's Outer Limits Over the Calf Padded Light Cushion is a ski sock built to excel in the backcountry. Extending mesh up the back of the leg improves ventilation and wicking, and cushion under foot provides just a bit of warmth and padding for drop after drop on the descent. A streamlined piece of padding along the shin protects from the boot.
‍
Wigwam's Dendrite Ultralight, MSRP$19, is a knee-high ski and snowboard sock with Wigwam's patented Ultimax technology. It combines a polyester/Tencel foot bottom that is hydrophobic with a Merino leg that is hydrophilic to move moisture from the foot, up the leg and out the sock. It is knit to fit snugly around the ankle and stretch to fit in the calf. It has a wide cuff and a seamless toe closure to prevent slipping, bagging and hot spots. "Basic lifestyle socks are a thing of the past," says Margaret Newhard, director of product. "Consumers won't put up with socks that sweat or bag or don't fit."