GOld Medal Service Awards
Footwear Retailers Honored For Customer Service Excellence
SPONSORS


Service. It's what it all comes down to. When Footwear Insight launched the Gold Medal Service Awards in 2015, we wanted to identify – and reward – the independent stores that elevate service to an art form. And the good news is we found them, and they are thriving. To create the list, we went wide. More than 120 shops were nominated by themselves or their vendor partners. (For this award, independently owned shoe stores and regional chains in the U.S. with a significant shoe business were eligible.) After evaluation, 124 were mystery shopped by Franklin Retail Solutions, a leading retail consultant firm. Shopped stores were rated on a list of criteria (to see the criteria, see page 28).
Stores scoring a 70 or above were named Gold Medal Service Award winners. For 2018, four stores scored perfect 100s – or above, thanks to the bonus questions! – and were named the Waldlaufer Waldy Award winners for the year: Check them out on the facing page. If you're a retailer and want to know if your store was shopped, reach out to us. And if you're a retailer on this list who wants to know more about your score send us a note and we'll share. And one note for list aspirants: After we tabulated the results, we realized that fully a dozen stores have made the list every year since its inauguration. If you aren't on the list and want to be, check out page 30: We polled our four-peat winners and got the techniques, straight from the source, on how they keep excelling year after year. Stores scoring a perfect 100 (or above) were named the 2018 Waldy Award winners, presented by Waldläufer.‍
Chandler's Walk Shoppe
2018 Waldy Award Winner - Score: 102
Owner: Skip Chandler • Salt Lake City, Utah • Year Founded: 2000
‍"I'm a certified pedorthist and a physical therapist and I've made orthotics for 32 years, so when we started the store I was very familiar with the need. We're very hands-on, very customer satisfaction driven. Everyone tries on the new shoes to get a sense for how they're fitting, whether they're fitting shallow or full, long or short. We have an investment in staff: We can't lose that knowledge. Obviously we're not perfect, but we try to turn those times we aren't perfect into learning experiences." – Skip Chandler‍
Modern Shoe
2018 Waldy Award Winner - Score: 100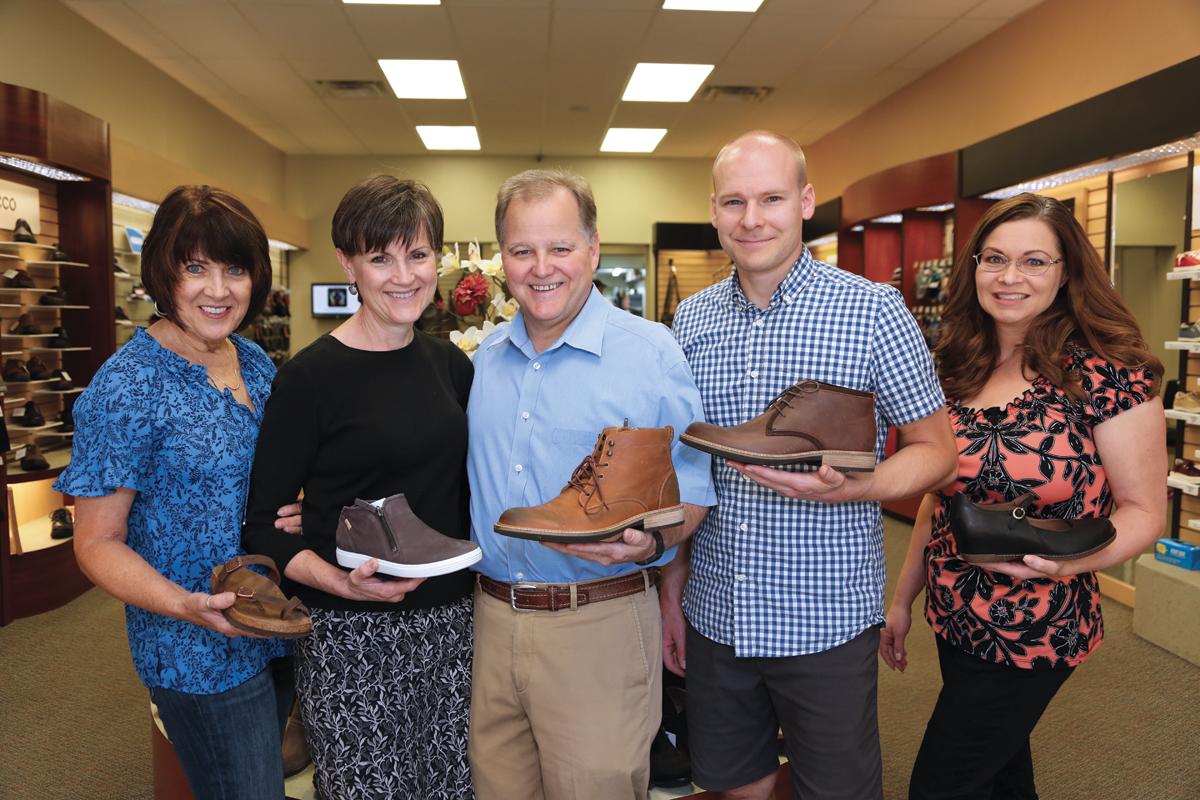 Owner: Tony Thomas • Provo, Utah • Year Founded: 1940
"Modern Shoe was founded in 1940 as a repair shop. I started in 1974. I worked here through junior high, high school and college. I was bored in the corporate world as a programmer, so in 1989 I bought the business. We go way beyond — we're experts in what we do. I'm a certified pedorthist, we have other certified pedorthists as well, and our customers get a lot of service here they can't get elsewhere. We're better than the average store because that's our heritage." – Tony Thomas
Tops For Shoes
2018 Waldy Award Winner - Score: 101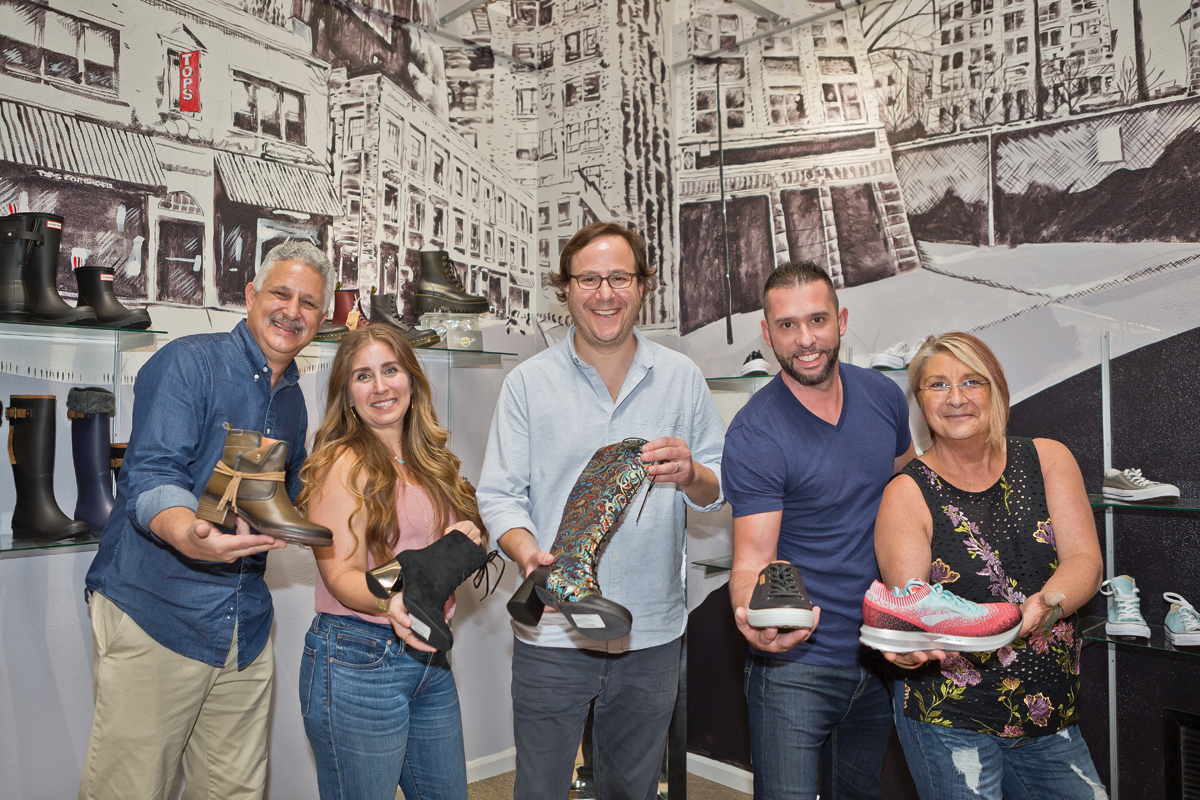 Owner: Alex Carr • Asheville, North Carolina • Year Founded: 1952
‍"Customer service is our highest priority. We take it very seriously; we've been doing it from the beginning — I'm the third generation — and I'm just carrying it on. We want to create an experience and guide you through the experience. A lot of the people who work here have been doing this for 20 or 30 years, and it's become second nature to them, and that makes it part of the company culture. The younger staff learn from watching the vets. I work the floor myself and try to set a good example. You don't want to be too far removed from the fitting stool in this business." – Alex Carr‍
Walking Comfort
2018 Waldy Award Winner - Score: 100
Founder & President: Bryce Anderson • Centerville, Utah • Year Founded: 2010
"We're a little bit different than other independents, a lot of whom who have been inherited from family or have been doing it for 50 years. I had worked for a number of years in the tech industry for Intel. We wanted to open a store with the best brands, to have the best selection and, most importantly, the best experience. We want it to be like the Disneyland of shoes. We're trying to grow in all aspects — not just our store and not online, we want to grow our stores and online and even the products we're making ourselves." - Bryce Anderson
Master Class
Repeat Gold Medal Service Award Winners Tell Us What Keeps Them on Top.
Achieving excellence is one thing, but continuing to excel? That's the hallmark of the very best. And in the four years since the launch of the Gold Medal Service Awards in 2015, there have been 12 retailers who have made the list each and every year. So how do these elite shops keep topping themselves again and again? We asked our repeat winners what it takes to keep killing it and they really delivered. Read on for an inside look at what the best shops in the country are doing every day.
Get Together
It's Retail 101, but when you're talking to the stores that really excel, it comes up again and again and again. Meet with your staff. All of them. Regularly.
"Each store meets once a week to go over our service policies; we meet as a company once a month. And in every meeting – every one – we carve out time for our basics. You can't reiterate those enough." — Jim Sajdak, president, Stan's Fit For Your Feet, Milwaukee, WI

"We do it every week, and it's mandatory — we let people know when we hire them that even if they're off that day, they'll be here for an hour so they can learn about the products, and so we can build internal chemistry. Doing them, as well as doing things like a staff Christmas dinner, add up to make the staff's chemistry better." — Tony Thomas, owner, Modern Shoe, Provo, UT
Put it to The Test
Want to make sure each customer feels welcome in your store, comfortable as they browse and excited by what you're offering? Get some outside feedback — there's no more objective way to see how your customer sees you. (It's no accident that the Gold Medal Service Awards are decided by a mystery shop.) Even better: Ask the people who are shopping for their thoughts.
"Talk to your customers to get their feedback and be open to learning. If you ever think you know it all, something will come along and surprise you." — Nicole Brownell, manager, Feet First Tampa, Tampa, FL

"Recently we did a customer survey — we sent out an email with Survey Monkey and asked what customer service means to our customer and asked what they think of Stan's and we received over 700 responses. We're still digesting the results." — Sajdak

"We work with John Lees, a sales and customer service consultant for Vionic. He encouraged us to do a customer service panel with each of our stores. We had a set of questions and met with a group of our customers for 45 minutes. This meeting helped us gain a better perspective on what our customers see and want instead of what we think they see and want." — Ryan Richard, team director, The Foot Spot, three stores in the Greater Kansas City area

"Good service isn't good enough anymore. It has to be spectacular service, with an incredible experience, so we commit to hundreds of secret shops per year. Every store gets multiple shops throughout the year. This has helped us pinpoint areas that needed improvement, but, more importantly, enabled us to reward publicly the members that are doing well in the secret shops following our ten step selling program." — Maurice Breton, ComfortOne Shoes, 18 stores in the greater Washington, DC area‍
Put Your Money Where Your Mouth Is
When it comes to incentivizing service, money talks.
"[Employees] who have achieved 90 percent or above on customer secret shops get to spin a wheel to get prizes at our monthly store meetings. If someone receives a 100 percent, they get to spin the wheel twice." — Breton

"Our staff is always excited about striving for that [GMSA] perfect score and next year I'm going to give a $100 bonus to the staff member that gets us on the list, and a $500 bonus if that salesperson gets us a perfect score." — Steven Rueda, owner, Turnpike Comfort Footwear, Fresh Meadows, NY ‍
Go A Little Farther
Look for the little ways to make your customers feel taken care of — they're the ones with outsized impact.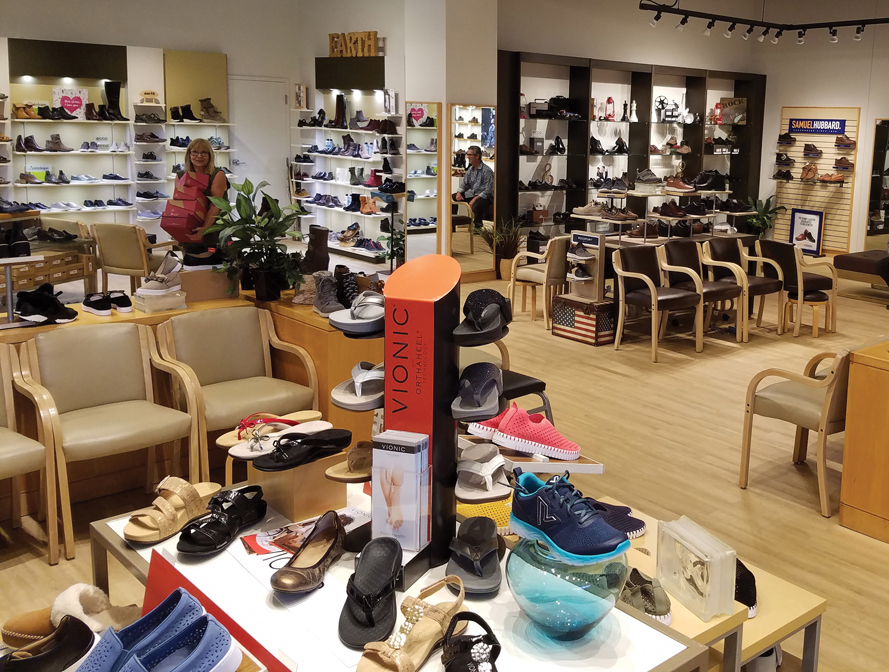 "We offer a cup of coffee or tea to each customer and this year we have added bottles of cold water for refreshments. Treat everyone with respect and friendliness — same as you would if they were guests in your home." — Scott Woldruff, owner, Woldruff's Footwear and Apparel, Goshen, IN
"I want customers to be excited immediately, with displays that draw their attention, a selection that makes them a little bit nervous. We talk to the staff at end of each season [to evaluate the product mix] and ask them, 'What can you live without?' Or we say, 'I'm going to kill these five styles — tell me why I shouldn't.' The goal is to have the staff involved in what we bring in, what we keep and what we don't. Then they're excited about it, and they can sell and explain it." — Bryce Anderson, owner, Walking Comfort, two stores in Centerville and Draper, UT
"When customers come in to try on, we slip in the back and polish their old shoes for them." — Skip Chandler, owner, Chandler's Walk Shoppe, Salt Lake City, UT
"We have a kitchen area in front to the store where customers can help themselves to water, coffee, soda, beer and wine, and we have a hot dog stand we bring out every Sunday during football season and give out free hot dogs and put on the 1 p.m. game on our 60-inch TV.  It's nice for the husbands and fans that come in to shop on football Sundays." — Rueda‍
People Power
Whether it's seasoned pros with degrees for days or fresh faces who bring a buzz or a savvy mixture of both, four-peaters agree: Having the kind of people on staff who make shoppers want to come back is critical.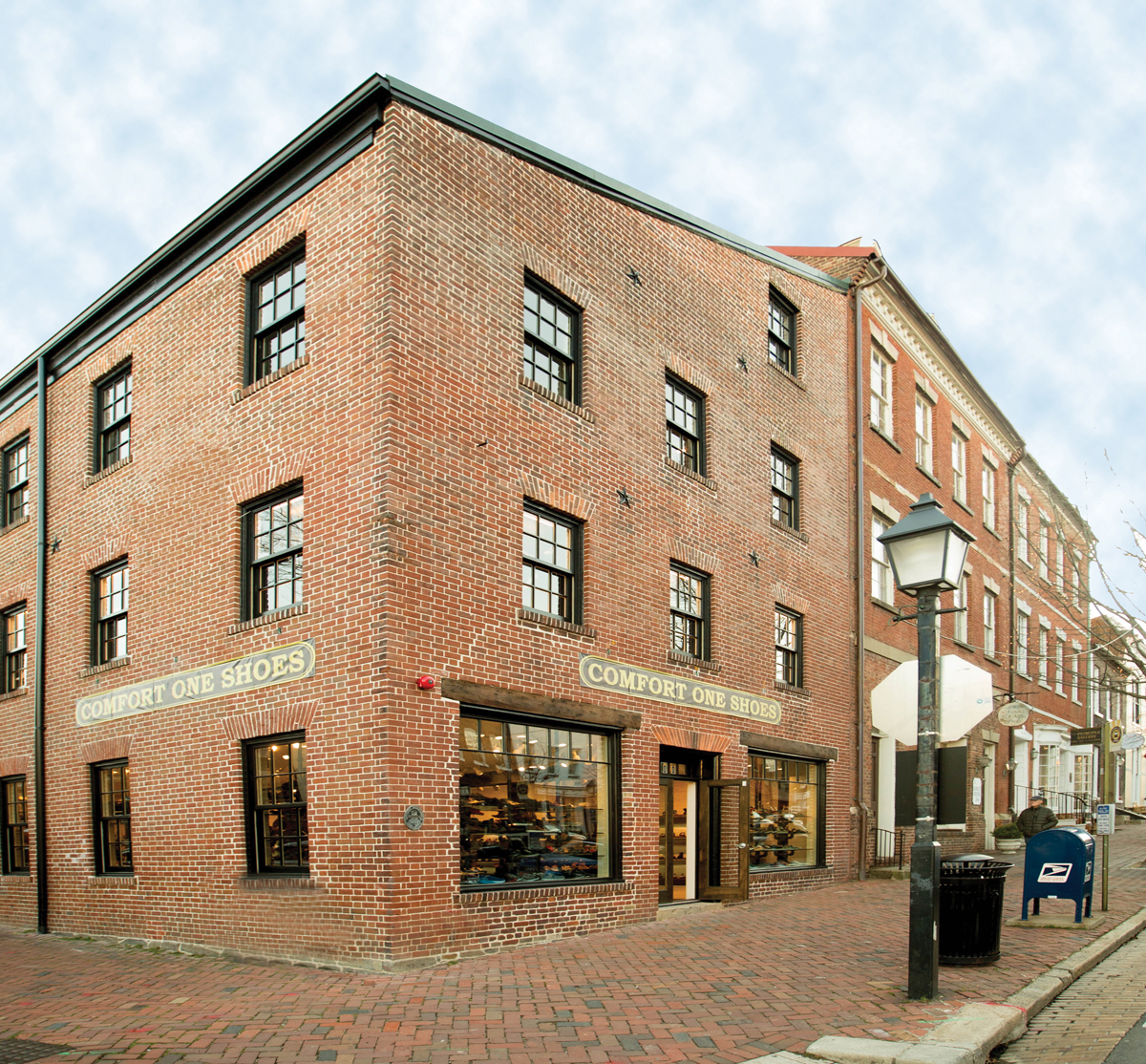 "This is our 68th year and my dad, Stan, had a philosophy of being a high-touch business, of making sure the customer walked out with a smile on his or her face and their feet feeling good. We still say, anybody can sell a pair of shoes, but did you make a friend today?" — Sajdak
"We truly provide the most complete footwear and foot analysis service available anywhere. Being staffed with board certified pedorthists and orthopedic shoe technicians, [and have an] onsite lab to produce custom shoes, orthotics and modifications, gives us the edge needed to survive in today's retail environment. Even our part-time employees are trained in biomechanics, anatomy and footwear construction and modifications." — Rueda

"It's about having a really caring staff. We've been able to really develop our staff over time and that's pretty rare. They're well trained and comfortable and very emphatic people and they're able to sit down and really evaluate someone's physical needs and abilities and get them something stylish. That knowledge base is hard to reproduce." — Chandler ‍
Reach Out
When you have what the customer needs, let them know. (And make sure you're tailoring your approach to their needs.)
"With consumers needing product at a speed similar to the internet, we have put processes in place to speed up the delivery of product from store to store and/or store to customer. We've pushed ourselves to [aim for] 100 percent fulfillment [on special orders] and we have two trucks running daily among the nine stores. We developed this foolproof form and about a year in it really has ratcheted up the availability. And we've added text messaging to our consumers when their product is ready. For the shoes we're moving back and forth, we have about a 70 percent pick-up rate and it used to be 50 percent. Clearly texts are what people want." — Jim Dament, GM of retail, Schuler Shoes, nine stores in the greater Minneapolis area

"With hard to find sizes, like a nine double wide, we have tablets on hand so any employee can show them what we're stocking in that, and we keep track so that if we're a little short on a particular size we can add more shoes to that category. We also leverage that database. We can target people with very focused, very targeted mailings based on their size and width, with a postcard that has the full-price shoes we're stocking." — Tony Thomas, president and owner, Modern Shoe, Provo, UT‍
Work With Our Experts
Your customers come to you because you're the experts. When it comes to improving customer service, why not do the same?
‍"We use Harry Friedman training [from The Friedman Group] for all new hires, and when needed for refresher our established staff members." —Tony Miroballi, co-owner, Miroballi Shoes in Orland Park and Wheaton, IL

"We hired an outside consultant to work for us for a couple of years. He developed a proprietary 10-step selling program, which we use to this day, as well as a sales goal and reward system for performance at or above the established goals." — Breton‍