Striding Into the Next Century
Vida Kids is looking to the future as it celebrates the 100th anniversary of Stride Rite.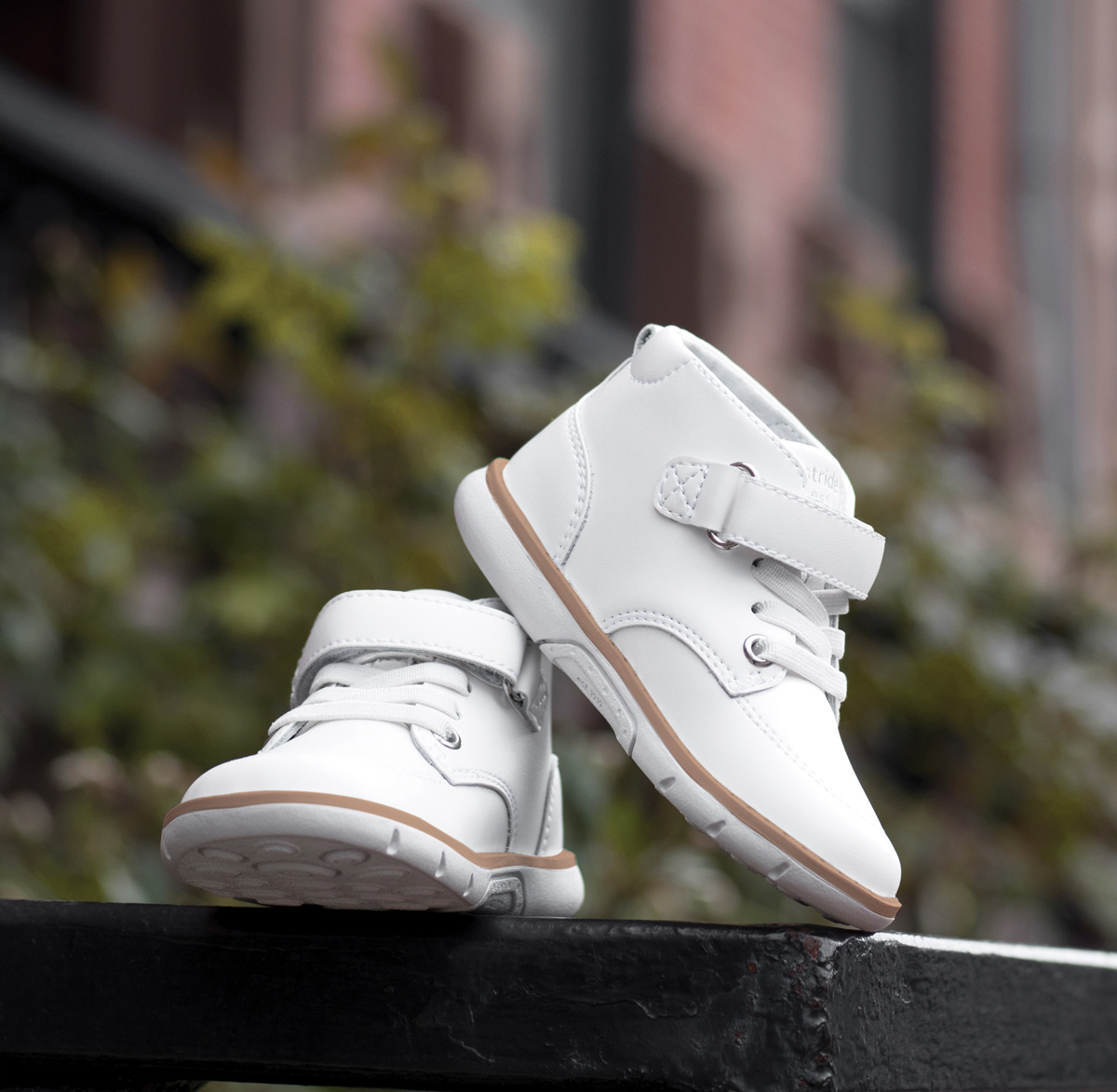 It's a select club, the brands that get to celebrate a centenary . But as far as Stride Rite is concerned, blowing out the candles on a century is just another reason to keep moving forward.
The brand, founded in 1919 as Green Shoe Manufacturing Co. in Boston, MA, has seen a number of changes over the years: its name (the Stride Rite moniker was purchased, for $1000, in 1933), its headquarters, its styles and even its ownership. Bought in 2012 by Wolverine World Wide, Stride Rite entered a new phase in 2017, when the license rights were snapped up by New York-based Vida Shoes International. Under Vida, the brand has refocused, making great fit and mom-friendly style its drivers, according to Brian McManus, EVP and GM at Vida Group.
"We need to make shoes that are great for kids, with exceptional fit and exceptional quality. But it's a different mom today and the shoes have to appeal to the moms," he says.
Part of that fashion-forward outreach is the Heritage Collection, which puts a modern spin on some of Stride Rite's most iconic looks. The three $50-to$55 styles – the SRT-Quinn bootie, the SRT-Charlie oxford, and the SRT-Nell T-strap – will debut for Fall '19 and will be updated seasonally with new colors and materials.  
Vida is also modernizing the entire fit process. This summer, the brand rolled out the first Fit Zone by Stride Rite digital fit system in a Pittsburgh Stride Rite store. The centerpiece is a 3-D modeling system that measures the child's foot size, instep and arch height and makes recommendations about what Stride Rite styles best suit the child's needs. Parents can leave the fitting with a 3-D model of their child's specific anatomy and a record they can access as he or she grows.
Here, McManus and Naly Lee, director of design at Vida Group, reflect on turning 100, getting inspired and what it takes to appeal to today's Millennial moms.
What kind of research did you do to channel Stride Rite's history in the Heritage Collection?
Naly Lee: "We have some catalogs from the early '90s, but we also were in contact with lots of the sales reps who used to work at Stride Rite. We got a lot of insight from them and even got to see some shoes that some of the reps had kept in their basement for years. Now they're in glass cases in our showroom."

Brian McManus: "We've also been able to sit and talk with Myles Slosberg, whose grandfather started the brand. [We've been] talking to the people who worked at Stride Rite, and talking to the Stride Rite store owners to get a feel for the line — we call them our brand partners, they're the ones who are in the sit-and-fit environment. So many have been with the brand for 20-plus years. The amount of information and the wealth of knowledge they have has been amazing. They're the heart and sole of the brand. And to have Naly and her team interpret the older styles for today [in the Heritage Collection] and go back to them and show them a proof of concept, it's been a great process."
What makes it modern?
Lee: "Stride Rite has always been iconic for classic white baby booties, so for the 100 year anniversary we redesigned the collection with modern updates. In the past the shoes have had hard, rigid, inflexible leather soles. We've added flexible, lightweight rubber outsoles. [Similarly], lots of classic shoes were full lace-ups, even for little kids. We've added hook-and-loop closures with elastic laces. We wanted a classic look, but kept functionality in mind to make things easier for parents and kids on the go. We also know Millennial parents are one of the biggest organic consumers in America. They are the generation that cares most about sustainability, what goes into their bodies and especially what comes in contact with their children, so this entire collection will feature premium leather and organic canvas linings. And we've put in a molded footbed with the Stride Rite Fit Check system. It's a soft cushioned leather molded footbed with a visual system. If their toddler's foot passes the red shaded area near the toe, it's time to get them refit or move up in size."
‍As you design the line as a whole, where are you looking for of-the-moment trend inspiration?
Lee: "Before we start the season, we make sure that we shop the market so we can identify the trends and try to find white spaces within our lines and in the marketplace. This season we shopped major cities within North America, from New York to LA, and Toronto and Montreal, [as well as] Paris, London, Stockholm and Barcelona. We find inspiration anywhere while we're traveling — from visiting a museum or looking at a pattern on a building. We shop the world and bring it all back to find the stories we're going to go after. One of the big ones we identified for Fall '19 is using different, cozy materials like warm plaids or checks. We'll seeing a lot of blended-type knits."
What's your goal with the Stride Rite line as a whole?
Lee: "The biggest initiative is to make sure that Stride Rite can be a 'want' purchase more than just a 'need' purchase. The brand has always made great-fitting shoes. But what we're noticing is that for the Millennial mom styling is key, so we're making sure we're trend right — we don't have to be the very trendiest, but it has to appeal. We're putting in the work to make sure it's trend-forward with an elevated design sense."
McManus: "Everything we're doing as a business is to glorify fit — it always comes back to that. But today's interpretation is different and the shoes need to fit [those mom's] style, too."
How does the FitZone system bring you closer to that modern mom?
McManus: "Since I was a kid, I worked on fittings and I really think this will help revolutionize the kids' business. Our first installation has been with our partner store in Pittsburgh, which was remodeled into the new concept in August. We have two more deals signed and one more in works and you'll start to see them roll out next year. Kids love it and it's something mom can have on her phone and take with her afterwards."